The free download version of PC Optimizer Pro allows you to make a free scan and detect all errors on your PC. However, to repair these errors, you need to registered the application. The process of online registration is fully secure and is 100% guaranteed. Upon registering, you also get free upgrades and e-mail support for life.

To register PC Optimizer Pro online

Click the "Get Full Version" link on the top of left-hand corner of the main window. The registration window will appear.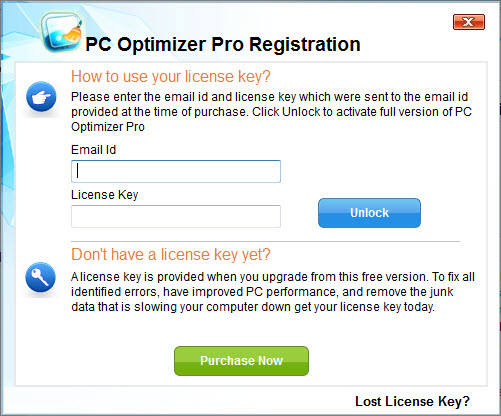 You can get the registration key by clicking the "Purchase Now" button. You will be redirected to the PC Optimizer Pro web site. Once you have the license key, please follow the below procedure to enter your key in the registration window.

When you purchased a license key, you can enter your email id into the "Email ID" text box and enter the License key into the "LIcense Key" box
Click the "UNLOCK" button to register
When you purchase PC Optimizer Pro, your name, address and e-mail address may be gathered and stored in our customer database. However, PC Optimizer Pro does not distribute this information to third parties. This also applies to other types of information that you provide, such as telephone or fax numbers.